Fixed Film: Rotary Distributors
Mast Type Rotary Distributor
Type M RotoSeal rotary distributors are applied to uniformly distribute wastewater over trickling filter rock or media to ensure uniform filter loading. Flow is introduced at the mast or center column and manifolded to the arms, which are fitted with orifices and spreaders.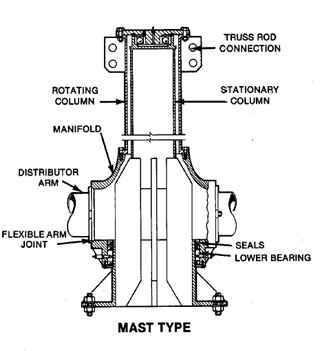 The distributor is driven by hydraulic reaction and is available with two or four arms and overflow controls depending on flow range and head requirements. Orifices are adjustable for future variations in flowrates. For filter bed diameters up to 175 feet and nominal flow rates to 5,000 GPM.
Mast-Tub Type Rotary Distributor
Type MT RotoSeal rotary distributors are for higher flowrates or larger filter diameters requiring greater bearing capacity than is available with Type M rotary distributors.Type MT mast-tub rotary distributors, as well as Type M rotary distributors, use a main support bearing at the top of the mast which prevents exposure of the bearing to sewage and ensures easy maintenance and long life. A large, open top, inlet tub is used on MT units rather than an enclosed manifold; otherwise, the design features are similar to M type units. For nominal filter bed diameters to 250 feet and flowrates through 25,000 GPM.
View All Biological Treatment Products