Aerobic Digestion: RollAer Aerobic Digestion
RollAer aerobic digestion systems provide oxygenation and mixing in aerobic digesters. The RollAer system consists of a large-diameter eductor tube submerged below the digester sludge level containing multiple air discharge lines for release of air within the tube.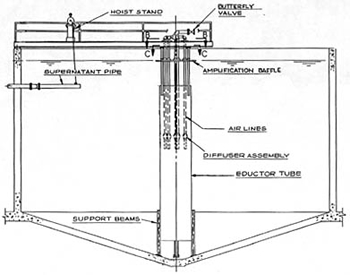 An airlift effect is created with the RollAer developing high pumpage through the tube and inducing strong secondary currents for complete mixing. Air lines are manifolded and fitted with diffusers to back-pressure the lines and provide proper air distribution across the tube cross section. Tube sizes range from 18-inch to 96-inch diameter with pumping rates exceeding 96,000 GPM.