Walker Process Equipment


A Division of McNish Corporation

1-800-992-5537
Office and Factory
840 N Russell Ave
Aurora, IL 60506
USA
Solid Contact Clarifier: Segmented Plow Rake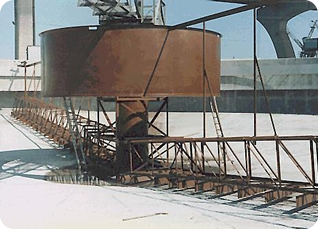 For greater flows and the resultant larger basins, higher torque capacities are required of the collector mechanism. A spur gear driven pier-supported collector is usually best applied in this class of service. Walker Process Type RS collectors are built around a center pier, which supports the entire rotating portion of the machine, plus half of the access bridge load. In addition to providing support, the pier resists the torque developed by the collector's sludge plowing action.
Pier-supported collectors are equipped with Walker Process internal spur gear drives. These drives, designed and manufactured by Walker Process, feature large gear pitch diameters and bearing races, heavy-duty materials, and simple maintenance procedures, which combine to provide a dependable and rugged machine. For a more detailed description of the Walker Process spur gear click here.
The spur gear pulls two box truss arms through the sludge blanket via a truss cage suspended from the gear. Bolted to the underside of the arms are steel scraping flights and adjustable squeegees.
All steel and truss structures are designed in accorance with the latest A.I.S.C. codes by Walker Process structural engineers. Necessary design loads on structures and weldments are determined, with an ample margin for safety, based on years of experience and "know-how" to make a solid, trouble-free installation. Special designs for seismic or other unusual loadings create a unit specifically tailored to suit customers' needs.
Typically, influent is fed underneath the tank, so the pier serves a third function of acting as the influent pipe inside the basin. Influent can also be fed through a pipe or flume supported from the access bridge. An influent well provides area for dissipation of influent energy.
A skimming package is also a standard accessory with pier-supported collectors, and is essentially the same as that furnished with bridge-supported collectors. The skimmer is supported from the collector arm and is counterbalanced for uniform bearing loads.
View All Water Treatment Products