Walker Process Equipment


A Division of McNish Corporation

1-800-992-5537
Office and Factory
840 N Russell Ave
Aurora, IL 60506
USA
Digester Mixing: GasLifter
GasLifter digester mixing systems provide thorough mixing of the digester contents to increase digestion efficiency, and control grit and scum accumulations. The GasLifter recirculates digester gas from the gas dome through a compressor to boost pressure, and then releases it into an eductor tube to create a gaslift pumping effect. Control housings complete with compressor, gas controls and safety devices are weatherized, and cover or remote mounted.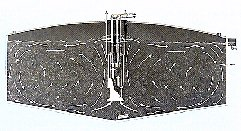 DirecTube GasLifters are constructed with a hot water jacket surrounding the eductor tube to provide efficient internal heating of the digester contents. The jacket is properly baffled to provide uniform circulation of hot water and uniform heating of the sludge as it is pumped through the tube. High velocities through the tube and jacket, combined with secondary circulation on the outside of the tube, produce highly efficient heat transfer while also eliminating all transfer pumps, piping and exchangers used with external heating.
Intense mixing has been demonstrated to provide a good return in increased gas production and quicker digester turnover. GasLifters can provide the necessary mixing level for any digester with available eductor tube sizes through 84-inch diameter capable of pumping rates to 90,000 GPM or more.