Walker Process Equipment


A Division of McNish Corporation

1-800-992-5537
Office and Factory
840 N Russell Ave
Aurora, IL 60506
USA
Digester Mixing: Agitator
The vertical shaft agitator by Walker Process provides a low energy solution for thorough, effective and maintenance free mixing for anaerobic digestors.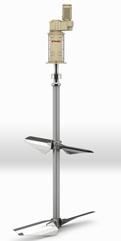 This Agitator is thoroughly proven in installations throughout the world in a wide variety of mixing applications.
Each Agitator is custom designed for the specific application and requires no bottom bearing and no eductor tube.
The impellers are fabricated from stainless steel and designed to optimize the most effective glide ratio and lowest power usage with the highest pumping capacity.
The Agitator is driven through a hollow shaft reducer and the shaft is supported by a secure base that supports a radial bearing.
The main shaft is sealed with a labyrinth water seal that positively prevents leakage of gas from the digester. A monitoring device provides remote indication of low water level in the seal.
All product contact surfaces are stainless steel.
Controls include automatic reversal of shaft rotation to minimize debris accumulation on the impellers